10 of the Best Pollock Phish Prints
Isaac Slone on July 18, 2012
© Jason Kaczorowski
Whether you're a collector or not, posters are an important part of Phish. Many fans head to shows early to pick up a limited edition print and can be seen walking around holding the print in a tube throughout the show. Today is the birthday of artist Jim Pollock who was one of the earliest and today, one of the most iconic artists in the Phish world. His prints are often the hardest to find and very valuable. Starting by making simple flyers for the band's gigs in the late 1980s, Pollock did not know what he was getting into. He later moved on to designing t-shirts, album covers (LivePhish), and most importantly, limited edition prints. Here is a look at some of Pollock's work with Phish.
1. Junta – Album Cover and Print
Even if you are less familiar with Pollock's prints, you've surely seen the cover of Phish's first studio album, Junta. For Record Store Day 2012, Pollock designed a special poster for Junta's vinyl reissue. Though 2,500 of these prints were slipped into the record packaging, they sold out incredibly fast.
2. The Great Went
In support of Phish's two-night festival The Great Went, Pollock set up a printmaking shop on site. Many fans sat and waited for prints to come out. Many were handed the prints before the inks had dried. The run of 100 was less than enough to satisfy fans. These sell on the Internet for an average of $3,750.
3. Camden 2003
A run of 1,000 posters commemorated Phish's two-night stand at the Tweeter Center in 2003. Depicted is the Benjamin Franklin Bridge, which connects Philadelphia, PA to Camden, NJ.
4. Shoreline 2000
First appearing in an edition of 600, this poster was popular enough that the art was used for a lithograph and a stash tin. It was the last print Pollock made on his bookbinding press.
5. The Gorge 1999
This poster from the Gorge remains a fan favorite. Many color variations on the original image exist. 10 years later, Pollock nods to the original design.
6. Hampton 2003
Each night of Hampton 2003 got it's own 20" x 20" poster. The square was a new design and many fans framed the posters as diamonds. These posters are a lot more colorful than Pollock's earlier stuff. These posters were sold at the actual merch stand for the first time ever, resulting in fans literally climbing over each other to get one.
7. Hampton 2009
For Phish's return to the beloved Hampton Coliseum, Pollock went all out. The design instantly became a fan favorite. 750 were made for the entire weekend, making them really hard to get but the design was printed on t-shirts also sold at the shows.
8. The Garden 2009
This print is incredibly location specific but in the Pollock tradition, surreal as well. The colorful piece is printed on three separate stocks with very nice lettering.
9. The Greek 2010
Pollock went old school with the prints for the Greek. These prints are two colors, hand-carved and pressed. Keeping with the Greek theme, these three pieces make a very nice set.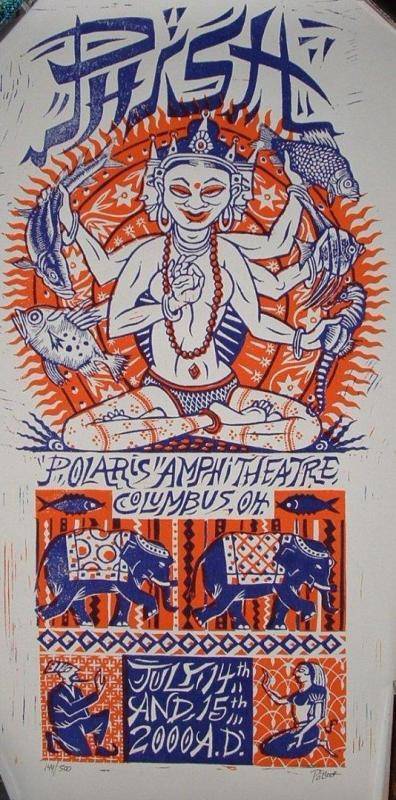 10. Columbus, OH 2000
These two shows closed out Phish's summer 2000 tour. Due to bad rainstorms, a lot of the posters suffered some amount of damage. That being said, fans tend to love this poster.